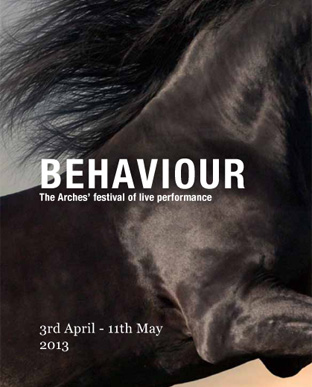 The Arches presents
BEHAVIOUR 2013
Wed 3 Apr – Sat 11 May 2013 | Various dates and times | Festival pass: £45/£35 | Day pass: £18/£12 | See individual events for prices
Behaviour Festival 2013 trailer from The Arches on Vimeo.
Behaviour is the Arches' festival of essential live performance, providing a snapshot of the most exciting international artists alongside their Scottish counterparts.
At the centre of this year's festival is a new partnership with the National Theatre of Scotland, namely the Auteurs Project, which offers brand new works-in-progress from five Scottish artists as part of a specially tailored development programme. We are also delighted to present our Platform 18 Award winners Peter McMaster and Amanda Monfrooe, our Brick Award winners with #Torycore and past festival favourites Mammalian Diving Reflex, Taylor Mac and Peggy Shaw.
Once again, the festival extends out of the Arches, across the city. We're particularly thrilled to announce Tramway as a key collaborator, allowing us to expand the ambitions of both the festival and our artists, with Rob Drummond and Gob Squad being shown in the renowned T1 space.
All BEHAVIOUR shows
3rd, 4th & 6th April Gary McNair: Donald Robertson Is Not A Stand Up Comedian
10th April Tranny & Roseannah's Cafe Bar Makeover
10th April Peggy Shaw: Ruff
10th April Efterklang: Ghost Of Piramida (film)
17th-19th April Kieran Hurley: RANTIN
23rd-27th April Amanda Monfrooe: Poke
23rd-27th April Peter McMaster: Wuthering Heights
25th-27th April Claire Cunningham: Pink Mist
25th April Gary's Chuckle Hut
30th April-2nd May Nic Green: Shadowlands
3rd May Gob Squad: Kitchen
4th-5th May Taylor Mac
5th May Gary's Chuckle Hut
9th May Tranny & Roseannah's Cafe Bar Makeover
9th-11th May Mammalian Diving Reflex: All The Sex I've Ever Had
9th May Gary's Chuckle Hut
10th May Tranny & Roseannah's Cafe Bar Makeover
10th – 11th May Rob Drummond: The Riot Of Spring
11th May Common Futures
11th May #Torycore
BEHAVIOUR online
Download the BEHAVIOUR brochure as a PDF
BEHAVIOUR on Facebook
Tickets
You can see everything with the excellent value BEHAVIOUR Festival Pass for just £45/£35 – to book, please call 0141 565 1000 or call in to the Arches Box Office at 253 Argyle Street.
Day Passes are also available for days with multiple shows taking place, and individual tickets can be bought for all shows – book online through the event pages above, or by phone/in person.
About the Auteurs Project
The Auteurs Project began three years ago as a conversation between the two organisations about the shifting ways that artists were making live work in Scotland. We recognised a move away from a pattern of graduate artists coming together to form companies with clearly delineated roles – director, performer, designer, writer, producer, educator – towards an emergence of artists who had exceptional ability in an overlapping collection of these areas. There was an incredible sense of energy, determination and potential from these artists. These creative authors were leaving their mark.
Thanks to support from the Esmée Fairbairn Foundation, the Arches and the National Theatre of Scotland have been able to design a programme of artistic development tailored to the individual needs of our five selected artists: Claire Cunningham, Rob Drummond, Nic Green, Kieran Hurley and Gary McNair.
For two years they have undertaken a bespoke set of activities including international research residencies, writing and thinking retreats, performance training, creative exchanges with other practitioners, placements and mentorships. The work now presented by each artist as part of the BEHAVIOUR festival represents a moment in their ongoing journey; a culmination of the programme so far, and an opportunity to share what has been developed.