If a cup of tea or hot chocolate is something you need to relax your mood then you might want it to be ready in a couple of minutes. Gone are the days when we used to boil water in a bowl on the gas stove just to have a few cups of hot water. It was time-consuming and expensive and sometimes due to extensive heat we used to end up burning our hands. Now we have electrical appliances like a Best Instant Hot Water Dispenser or an Electric Kettle to boil us a cup of water instantly. These appliances add up more convenience to your life and have become a necessity nowadays.
If you don't have any of these appliances yet and looking forward to buying one then you might be having difficulty choosing between these two devices. Both of these devices share a lot in similar but either one of them has a whole lot of features as compared to the other one. Having a lot of options makes it difficult for the consumer to choose one especially when there is a huge price difference. An Electric Kettle or an Instant hot water dispenser? Which one you should choose? and what is the difference between a kettle and an instant hot water dispenser? and most importantly are hot water dispensers more efficient than an electric kettle? Let's find out this article and answer all of your commonly asked questions.
Electric Kettle
The electric kettle is also known as an electric tea kettle the reason is being the design which is actually inspired by the traditional tea kettle. The only difference is that it runs on electricity to boil water. Using an electric kettle is very easy. You just have to fill it with water and plug it into the socket and then switch it on. In a couple of minutes, you will have your hot water reading for drinking or making a hot tea. Just like the hot water dispenser an electric kettle also boils water quickly in just a few minutes. It is also very portable as compared to a hot water dispenser because you can carry it with you wherever you need and pour water easily. In case of a hot water dispenser, it is a point of use machine.
Usually, the electric kettle costs just a little lower than the hot water dispenser and it's not very expensive. The electric kettle is somewhat more economical and good for smaller quantities. You definitely have very low water capacity when compared to the hot water dispenser. It is only suitable for 3 to 5 people like a small family or an office with a few employees.
Instant Hot Water Dispenser
An Instant how a water dispenser is an appliance which just like the name suggests, dispenses hot water instantly. You can make drinks like tea, coffee, instant noodles within 1 minute. The electric kettle was one of the first ones to become a popular instant water boiling appliance and now the hot water dispenser is taking over. Although hot water dispenser has also been around for a while but it has gained popularity in the recent few years.
Hot water dispenser comes in a lot of different variety, there are the portable ones which we use in our offices or kitchen and you can use this appliance in your home as well as in office to serve your family and employees a cut of tea or coffee and then there are plumbed in ones which are suitable for a large company.
The best part of this appliance is the price. They have a very affordable price tag and comes in a lot of different price ranges. If you want to spend a lot to get more features then surely you can but you can also get a decent one in cheap. Sometimes the price comes as low as an electric kettle.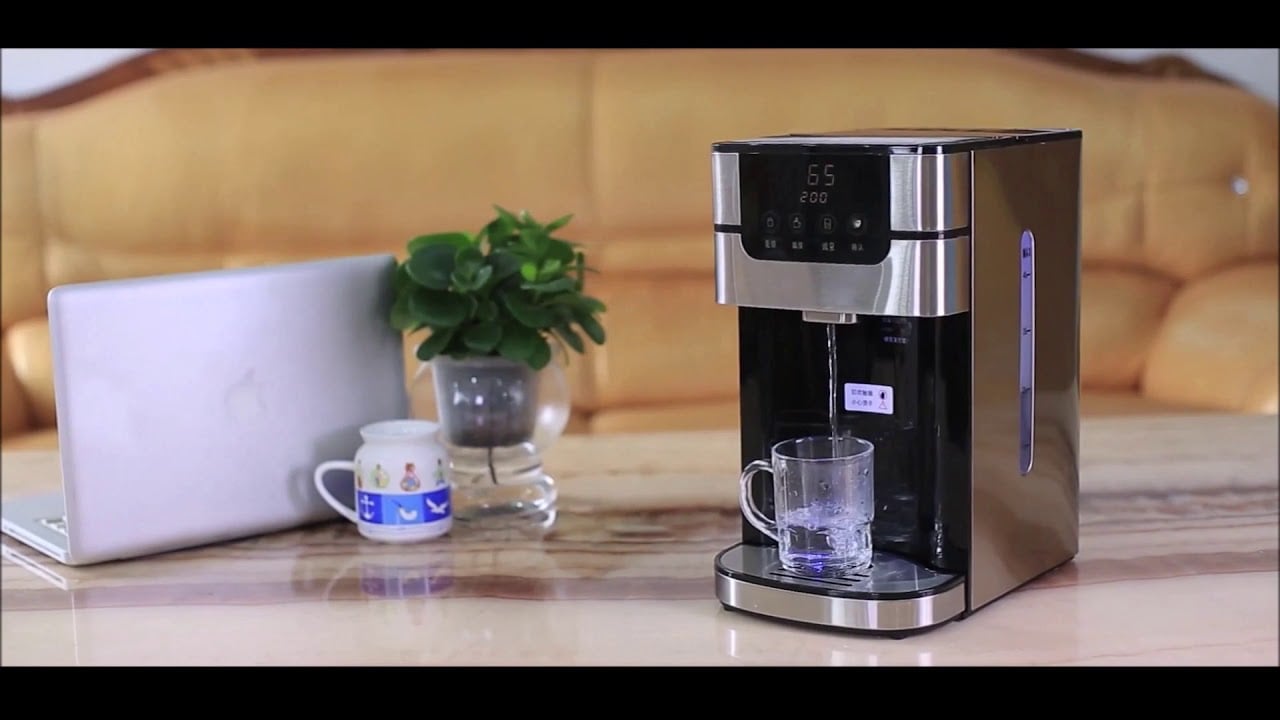 Hot water dispenser or Electric kettle – Which one is more efficient?
One of the most asked questions people ask when it comes to choosing the right appliance is which one is more efficient. Well, to boil around 500ml of water an Instant hot water dispenser takes almost the same amount of electricity as compared to an electric kettle but if you decide to use the electric kettle repeatedly then it's wasted a lot of energy. Most of the energy gets lost by the exteriors and it not energy efficient. Suppose you have an office of 10 to 20 people and if you own an electric kettle then it will take you at least 3 to 4 refills.
On the other hand, a hot water dispenser has a much larger water capacity and additionally, in many superior models you have an option to choose the amount of water you need and the water dispenser will only boil the selected amount of water. You also have a self-stop feature so when the water reaches a decided temperature the hot water dispenser will automatically stop working. Also having a large capacity means you can boil almost double or triple the amount of water which makes it more energy-efficient than the electric kettle.
Final Words
A Hot water dispenser is a product very similar to the electric kettle. They both will boil you a bowlful of water this is the main reason why it is more preferred in an office, waiting room, home or a place where setting up a gas stove is simply not possible. Some models are suitable for office use while some of the models are best for home use. Whatever your use case is, you will always find something which fits your need.
So, this was a quick comparison between an electric kettle and a hot water dispenser, hopeful now you know which one is more energy-efficient and now you can make a better decision on which one you might want to consider. In case you have more doubts then do let us know in the comments below.