Have you ever came across an unusually shaped bush or a boundary made of bushes in your neighbourhood or while walking in a garden? These are called Hedges. Hedges are very useful for protecting your garden or field from harsh weather. It also gives a pleasant look to your house or garden but keeping them in shape to look neat and attractive is not an easy task.
In a Hurry? Here are Our Top Gtech Alternative:
Here is a quick snapshot of our top-rated picks.
In the past, people use shears which is like big scissors to cut the Hedges but it was very time consuming and requires a lot of hard work. This is where the Hedge Trimmer comes into play. A Hedge Trimmer or sometimes called as a Bush Trimmer is a tool mainly used in gardening for cutting Hedges and bushes. This simple tool minimizes your time and effort and helps make your garden look neat and clean.
If you are in the market and looking for a Hedge Trimmer then you will often come across the brand Gtech. This is a British company which is known for making some of the best home appliances and garden tools such as Cordless trimmers and vacuum cleaners. Now the questions arise here is why Gtech is best as compared to other companies like Dyson? Well, Gtech Offers 100% money-back guarantee when you buy directly from them. So if you don't like the product then you can easily return it by paying a simple £10 Shipping charges. Gtech has launched a couple of Hedge Trimmers and the Gtech HT20 is one of them.
The Gtech HT20 is a great performing cordless hedge trimmer offered by Gtech. It was launched in 2016 and is still one of the best Hedge Trimmer available in the market till now. It has all the features which you may need and is also reliable. It comes with a very affordable price and the best thing about this is the portability. The HT20 is a cordless Hedge Trimmer which avoids long cords and motors which runs on petrol.
This Hedge Trimmer is a single unit and runs on a rechargeable battery. In this particular review, we are going to thoroughly cover everything about the Gtech HT20 Hedge Trimmer and give you all the necessary info which you need to know to make the perfect buying decision and see if the trimmer is the best for you.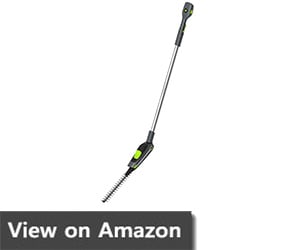 Let's take a look at the products specifications to see what the trimmer offers as compared to other models in the competition.
Dual Steel Blades
315 mm long blades with 1.5 cm spacing between each teeth
135 Degrees adjustable cutting head
Can cut stems up to 15 mm
The interchangeable branch cutter head
45 Minutes running time
18 v Lithium-ion 2000 mAh battery with 4 Hour charging time
2.25 Kgs weight
2 Years warranty
30 days money-back guarantee
Gtech HT20 – Packaged Contents and assembly
The Gtech HT20 hedge trimmer comes in a very well packaging and is very easy to assemble. Let's see what's in the package.
– The main unit of Gtech HT20
– The trimmer handle with trigger
– A safety cover for the trimmer teeth
– A 2000 mAh battery
– The charger
– An Instruction manual
– An Extension rod (Sold Separately)
The assembly is very easy. The main body of the trimmer fits straight into the hole of trimmer handle which has the trigger. You now have to attach the battery to the trimmer handle. That's it, you are good to go now. The trimmer head can also be rotated as per your requirement and when not in use fit the safety cover to protect the teeth from any kind of damage.
To start the trimmer you first have to press the safety switch to unlock the trigger. It is an added mechanism to prevent accidental trigger press. Now remove the safety cover from the trigger and press the battery indicator button to get an idea of how much battery you have. Just press the trigger button now and the trimmer will start working. To cut it from an angle just rotate the trigger head as per the need and that's it. The assembly is very simple and can be done within 5 minutes.
What we liked about the Gtech HT20
The Gtech HT20 has a very durable construction. The body is made from good quality plastic and the rest of the construction is completely stainless steel. This makes the Hedge Trimmer very durable. It's been a quite sometimes since the product was launched but even till now it doesn't require any major upgrade.
The product is very long-lasting and that's the main reason why most of the customers like it including me. The main unit is around 2 meters long and is very well balanced across the unit. This doesn't make pressure on you as you need to hold the unit for quite long to finish the work.
You can cut through thick branches with ease. The teeth or the blades used here is also made from high-quality steel so when you are cutting through thick branches the blade won't break or bend easily. This makes it very durable. The blade has a 31 cm length and has 1.5 cm spacing between each teeth. If you want to replace the teeth or the blade you can buy a replacement directly from the Gtech or just sharpen them whenever you want. I recommend you to keep the trimmer sharp always so won't have any problem at all.
The Gtech HT20 Hedge Trimmer has an adjustable head and I personally like this feature more. This makes it easy to reach hedges and bushes which are high up the ground or at a boundary or wall. Now you don't have to carry out your ladder every time just to cut the high hedge tops. The head angle can be adjusted from a range of 135 Degrees so you can just stand on the ground and cut the hedge tops straight which are located high above or just sweep through the ones which are high and flat. The versatility of the Gtech HT20 Hedge Trimmer saves you a lot of time and effort.
The best thing about this Hedge Trimmer is you can convert this into a branch Cutter. You have an option to purchase a separate branch cutter attachment for the Gtech HT20 Hedge Trimmer. The normal trimmer is still good enough for thin branches but when it comes to thicker branches the Optional Branch Cutter makes the work pretty simple. The extension pole and the 135 Degrees rotating trimmer head makes the work really simple.
The Branch Cutter and the pole are not included in the package by default but you can buy it separately. The branch butter can easily cut through a branch which has 15 mm to 25 mm thickness in our usage but as per Gtech it is capable of cutting a branch which is 40 mm thick but still, you can a branch of 6mm easily with this branch cutter.
The extension pole which Gtech offers can be used to make the trimmer even longer. Though it comes with a price tag of £40 it's still worth it. This comes in handy when you have a very long hedge and don't want to use a ladder. With this optional extension pole, you can extend the reach of the HT20 hedge trimmer for an extra 50 cm which is great. The trimmer is a completely cordless device and is powered by a Lithium-Ion Battery.
It doesn't require petrol like the other trimmers which is a great thing in my opinion. It has an 18 V lithium-ion battery of 2000 mAh capacity which is great. The trimmer runs for about 45 mins in a single charge. The charging time here is about 4 hours. You also have a battery indicator here so you can easily check on how much charge you have left and additional you can buy spare batteries separately.
What we didn't liked about the Gtech HT20
There is not a lot to dislike about this Gtech Hedge Trimmer. Let me tell you, this the best value for money trimmer you can get. Other trimmers in the market will cost you double of what Gtech is offering. Here are a few things which one should know before making the buying decision.
Some people complained that this trimmer is very heavy to use. The weight is around 2.25 Kg which are lightweight in my opinion but for extensive use, it may feel a bit heavy. The battery here also takes quite a long time to charge. It doesn't come with a fast charger and the total charging time it takes to charge the hedge trimmer completely from 0 to 100% is around 4 hours which is quite long. You can also buy spare batteries if you want and charge them alongside and use the trimmer for a longer period of time.
You have to buy additional attachments along with the trimmer such as the Extension pole and the Branch cutter which will later add up to the price. Another thing here is the main unit is kind of small and not suitable to cut a very thick branch which has grown up over time. For that, you have to buy the optional Branch Cutter which will cost you a few extra bucks.
PROs
Completely cordless and ease of usability makes this device a perfect gardening tool.
Great build quality and high precision blades can cut up to 15 mm thick branches.
It runs on a Lithium-ion battery which gives a total run time of 45 minutes. Batteries can also be interchanged.
The Hedge trimmer is lightweight and weighs around 2.25 kg.
Has a double sided blade to ensure perfect cuts.
The main trimming head can be rotated up to an angle of 135 degrees allowing you more room to cut hedges which are located high without using a ladder.
Comes with an optional interchangeable Branch cutter head.
Comes with an option Extension Pole to extend the reach.
Features 2 years warranty from Gtech.
30 Days money back guarantee.
CONs
Not suitable for very thick branches. You have to buy a branch cutter separately.
Additional accessories have to be bought separately which adds up to the price.
No fast charger included and the battery takes a massive 4 hours to fully charge.
Quite heavy for some people.
Final Conclusion
So this was a short review of the Gtech HT20 Hedge Trimmer. HT20 is one of our favorite gardening tools. It is also one of the most popular among customers. This makes the task very easier so you can do it yourself and no need to call a specialist. This saves you a lot of bucks in the long run. I won't think twice before recommending this product. You can happily choose this product and the 2 Years warranty from Gtech is like an icing on the cake. You know, when the manufacturer gives a longer warranty the product should be long Lasting.
Whether its cutting overgrown Hedges or trimming bushes into a nice looking shape. You can do all of it with the Gtech HT20 Hedge trimmer. We did test some other Hedge Trimmers from competitors in the same price segment, and the Gtech HT20 surprisingly turned out to be the best one. The product is currently available under £200. So, If you are looking for a value for money Hedge Trimmer, then this is your perfect bet.
Feel free to comment below if you have any kind of query related to Hedge Trimmers or if you have any kind of suggestions we will surely look at it and try to help you out. Till then bookmark this page and visit later for any kind of update if you decide to buy the Hedge Trimmer sometimes later.