A dashboard camera has proven to be an invaluable piece of kit, time and again. Especially in the case of an accident. Dashcams often fire up the speed of settlements and get you a no-claims bonus too. So that's dashcam proving its worth right there.
They are a perfect option to safeguard you against a very unsettling trend of crash-for-cash crimes.
Looking at the increasing importance of dash cams, we have curated a list of ten best dash cams that ensure the footage is accurate and usable in the case of need. So if you are also looking to buy a dashcam but you're not sure what you want exactly, then check out the handy buying guide at the end of this article.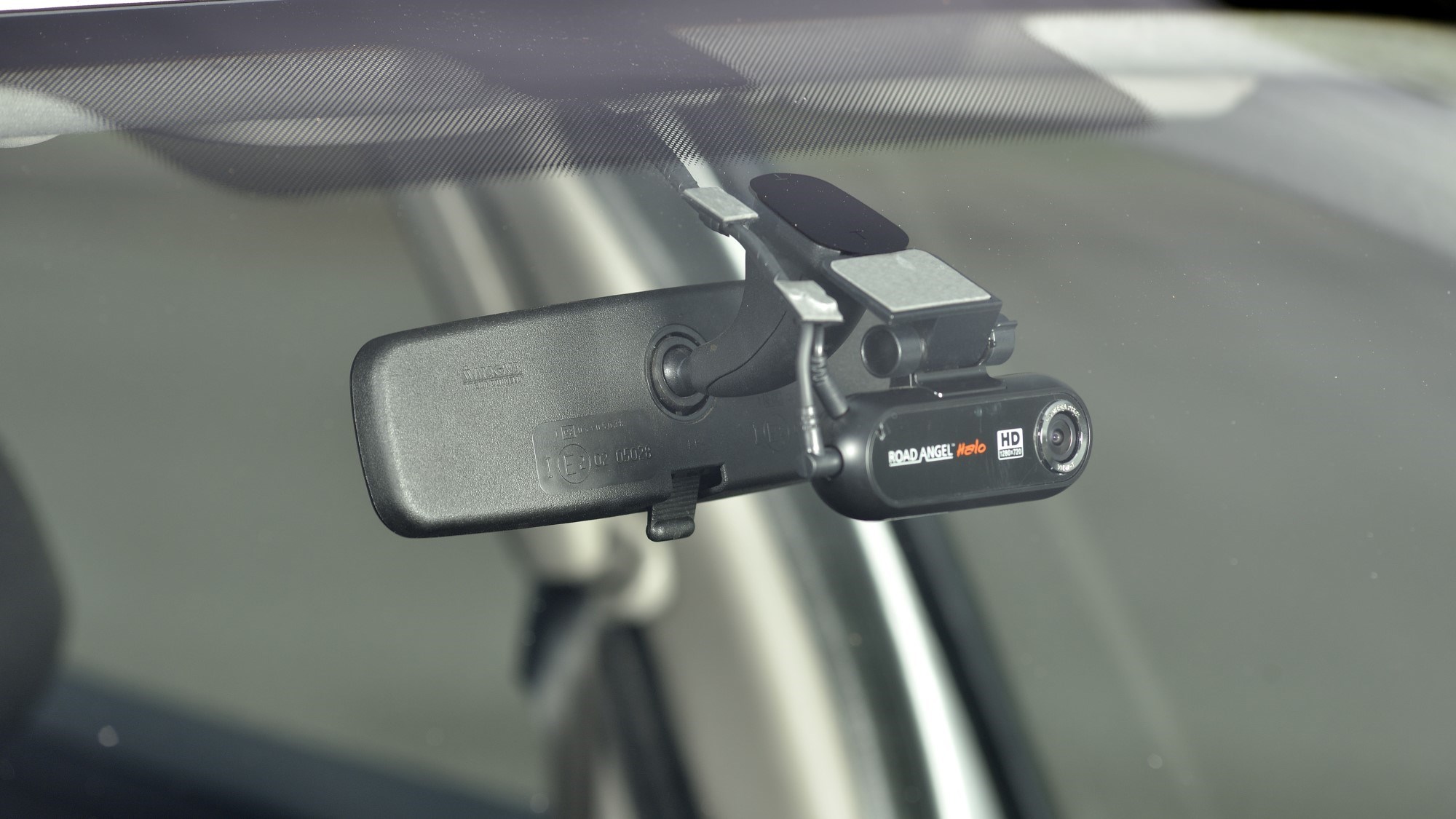 A lot of the frequently asked questions are also answered at the end of this guide, but if you still have some, then feel free to drop a comment and we'll get back to you.
Best 10 Recommended Dash Cams below £50
1. Claoner Dash Cams For Car's Rear & Front
The first one in the list, with a strong customer rating, is Claoner's Rear & Front Dash Cam equipped with a resolution of 1920*1080P front camera and an HDMI rear camera. This dashcam vividly captures the road signs as well as the license plates. Its wide-angle front cam (170 degrees) and rear (130 degrees) camera helps to eliminate any blind spots you might have in your vision.
It comes with a super night vision that facilitates simultaneous recording in 1920*1080 resolution. It allows you to replay the recording even when you have been driving at high speed. Its night vision is enhanced by the combination of F1.8 large aperture, HRD, WDR.
This dashcam eliminates the need for a secondary light source while driving at night. So even if you are in any low-light environment, it is very easy to obtain sharp, accurately coloured images.
However, when the storage limit is reached, the loop recording function would overwrite the old recordings. Which is why it is suggested you keep the previous recordings saved somewhere else.
Claoner comes with a built-in G-sensor which automatically locks the current video at the time of the collision. This will help you in distinguishing who is responsible for the accident.
Endowed with all these amazing features, this dashcam is still very easy to install. You don't need anyone coming over to install this beauty in your vehicle, you can very easily do it yourself. Its suction mount can be attached anywhere on your windshield and it barely takes a few seconds.
PROs
Easy installation
Loop recording and emergency lock
3 inch IPS screen and easier viewing of recorded videos
Full HD 1080P and super night vision
Front and rear dual dashcam
CONs
SD card does not come with the package
Loop recording deletes the previous recording
2. ORSKEY Dash Cam Full HD Car Camera
Here's the second dash cam in our list, the ORSKEY dash cam is equipped with 1920*1080P resolution at 30 fps. These specifications naturally enable the dash cams to capture road conditions as well as the license plate details.
Its 3 super-large LCD display shows the real-time image and captures even the smallest of details. It comes with a superior night vision technology that allows the dashcam to work optimally even in the low light conditions. This feature is further enhanced by WDR technology.
Sale £30.00
Orskey dashcam comes combined with a Sony sensor and six glass lenses with a 170-degree wide-angle which allows COMS to give more clear images. Its high-performance chipset lets you take up to 1080P 30fps full HD videos and 12MP pictures.
This dashcam is also combined with a G-sensor that automatically captures driving incidents all the while protecting the recordings. Its loop recording feature continuously keeps overwriting older recordings for newer ones. So if you want to save the older recordings, you will have to do that manually. However, for loop recording to work, the dashcam needs a micro SD card.
In terms of easiness of operation, this dashcam challenges the previous one. You can easily mount your dash cam on the windshield in seconds with the help of the suction cup. The dashcam also comes with a guarantee of 12-months and a qualified after-sale service.
PROs
3″ Ultra-clear LCD screen
Super night vision
Emergency Lock
Seamless loop recording
High dynamic range
Easy installation
CONs
Does not come with an SD card
Loop recording deletes the previous recording
3. IIWEY Dash Cam with Front and Rear Camera
Here's the third dash cam in our list, the ORSKEY dash cam is equipped with 1920*1080P resolution at 30 fps. These specifications naturally enable the dash cams to capture road conditions as well as the license plate details.
IIWEY Dashcam is equipped with 1080P resolution with ultra-wide angle lenses that provide outstanding image quality. Its rearview camera is completely waterproof and it can be installed outside as well.
Its loop recording overwrites old recording with new footage. The G-sensor that it is endowed with detects collisions and saves the relevant video and then locks it. This prevents overwriting of the video and prevents the recording from getting lost.
IIWEY comes ith an automatic rear and front camera that starts recording as soon as an impact is detached. That means it makes for an amazing parking monitor. It also saves you an impact recording, so if you leave your car in the parking lot for a long time, you can stop being worried.
With the full HD 1080P front camera, you are always under full protection and with the advanced Starvis sensor, F2.0 wide aperture, and the WDR tech you are guaranteed high-definition recording in the day and the night as well.
It comes with a 32GB U3 memory card and a rear camera with a 5.5M cable. The box also has an adhesive mount, a car charger, and obviously, a user manual.
The IIWEY dashcam comes with a 45-day money-back guarantee and 36-months worry-free and unlimited timely customer service.
PROs
Loop recording and G-sensor
Broader field of view
High dynamic range
High-quality video real 1080P
Compact small HD screen
Superior video quality in the night
CONs
Loop recording deletes the previous recording
4. APEMAN Dual Lens Dash Cam For Car's Front And Rear
Ranking next on the list is a unique and delicate APEMAN dash cam for the car's rear and front specifically designed and developed through independent R&D for a square compact size enabling convenient installation for British models and aesthetics. Providing value for your money a 32 GB MicroSD card is offered for free, avoiding the use of an incompatible SDcard.
This model comes equipped with 1080p full HD recording providing crystal clear footage. It's 170-degree wide-angle recording that captures the details of every moment from a broad perspective. 720P waterproof rear camera yields excellent results through the rough courses of your journey. The 720P has three times as many pixels as VGA, which enhances the resolution of the recordings.
Highlights of the APEMAN dual lens dash cams are its exciting features .C420D has everything you are looking for in an ideal car dash camera like the G-sensors that save every detail of the collisions coming in handy at times of legal matters. WDR technology combines bright and dark conditions in the field of view to enrich the details yielding superior contrast to the recordings.
Other features like loop recording, motion detection and parking guard add value to a convenient driving experience. It comes with an SD card and a lifetime customer support service to resolve user queries and provide ideal solutions to your questions. The data retrieval at the time of need and the sensor technology enhancing the driving experience is what makes APEMAN dual lens dash cams a must-have for users today.
PROs
Dual lens protection
720P waterproof rear camera
1080p HD front recording'
170-degree wide-angle view
Value for money
CONs
Powered by battery rather than a capacitor
Does not come with a Wi-Fi
5. PETZIO Car Dash Camera Recorder With Wi-Fi
This dashcam in the list comes equipped with a powerful lens, which can record full HD1080p explicit videos. Petzio car dash cams support 170 degrees super wide-angle record, capturing multiple lanes in real-time. Built-in 2.4Ghz Wi-Fi transmitter enables smooth transfer of videos and pictures between dashcam and smartphone as and when needed.you can easily watch the videos in real-time on your smartphone or save them to your mobile phone album.
Enhancing the features of dash cams is the combination F1.8 aperture and WDR technology which improves the quality of image yielding better resolution. PETZIO car camera makes night shots brighter and prevents overexposure under intense light obtaining crystal clear quality.
Other powerful functions of these dash cams include G-sensors which lock the video on detecting a sudden shake/collision preserving the footage in case of need. Loop recording automatically overwrites the unprotected files.
Using the motion detection element, the dashcam starts recording as the vehicle gets in motion. The product is designed uniquely so that the dashcam stay concealed behind the rearview mirror giving it an elegant look and also eliminating the blocking of vision, ensuring safe driving experience.
Every PETZIO customer is covered under one year warranty and supplemented with SD card, car charger and user manual along with the dashcam in the package. All these fantastic features make it a leading choice for dashcams aiding driving experience.
PROs
1080P FULL HD Videos
170-degree wide-angle view
Wifi-enabled
Comes with a G-sensor
Motion sensors
Loop recording
CONs
Not powered by a capacitor
6. TOGUARD Mirror Dash Cam
The next dash cams on the list are TOGUARD mirror dash cams featuring a 5″ LCD touch screen enabling the user interaction to be simple and elegant in accessing the dashcam footage. The 1080p resolution and 170 degrees wider field of view provide you with crystal clear image quality. It overall works perfectly as a rearview mirror with less glare.
Simultaneous video recording by dual dash cams and one-click switching video recording view enriches the data quality and accessibility. Parking monitor of this dashcam provides around-the-clock protection and surveillance for the vehicle, which captures footage while parked and prevents hit and run situations. The motion detection sensors must not be turned on during driving and ongoing dashcam recording.
Rear camera for safe parking is another highlight of this product. Parking guidelines are activated as soon as the driver engages in reverse gear, helping drivers in the distance to avoid collision and prevent scratching while getting the car in reverse. The red wire of the rear camera must be connected to power positive cable of reversing lamp.
You can set video file length to 1/3/5 min, courtesy, loop recording. It then automatically overwrites the earlier file and records over it when storage fills up. In the event of a rapid acceleration/deceleration or an accident, the G-sensors are triggered. This trigger immediately locks the current video file so it will not be overwritten by loop recording.
The sensitivity of the video can be changed in the menu as per the requirements.
Auto Recording starts as the vehicle gets into motion and the rearview dash cam can be easily installed along with the existing mirror. Professional customer service and all these fantastic features make TOGUARD mirror dash cams an ideal option for the users.
PROs
5″ touch screen LCD
170-degree wide-angle view
1080p HD video
Loop recording and G-sensors
CONs
Powered by battery rather than a capacitor
Does not come with a Wi-Fi
Does not come with a memory card
7. Innosinpo Dash Cam FHD 1080P In-Car Camera Dashcam
The next on the list is the INNOSINPO dashcam with 3″ LCD screen for convenient access to the data. It comes with excellent 1080p full HD resolution providing you with an outstanding picture quality with an accurate record of every driving process, providing high-quality footage for any insurance claim.
It monitors your vehicle in driving as well as the parked state. On detecting a sudden break or collision, the installed G-sensors will autosave footage in an emergency, preventing the authentic video sources from deleting. Such videos come in handy in case an accident or scratch occurs on the road, aiding in resolving conflicts.
It comes with various amazing functions of, seamless loop recording, parking monitor and WDR technology for enhanced user convenience and data credibility stored. Motion detection feature yields. 170-degree wide-angle lens provides a full field of vision effectively reducing blind spots, capturing more details and accurate record of every driving scene and yielding superior resolution in data stored. Simple installation of the device enables the user to mount the device to car windshield in seconds using the suction cups provided.
Plug in the included charger, the dashcam will start auto-recording as the ignition of the car is turned on or off accordingly. With all these features easy to use even for a first-time user INNOSINPO dash cam is an optimum choice for a convenient user interface and an enhanced driving experience.
PROs
3″ LCD screen
1080p full HD resolution
170-degree wide-angle lens
Loop detection
Equipped with G-sensors
CONs
Powered by battery rather than a capacitor
Does not come with a Wi-Fi
Does not come with a memory card
8. SSONGTONG Dash Cam With SD Card
In this series of dashcams now we have SSONGTONG dash cams with SD card equipped with a full advanced image sensor, F1.8 wide aperture,170degree broad angle view and WDR technology which enhances the clarity of images. The dashcam makes night shots brighter and prevents overexposure under a bright light to yield crystal clear recording. With the SD card in front and better night image capturing the night driving experience is enhanced.
This dashcam with front SD card comes with a real full HD 1920x1080p/30fps display that enables you to see road conditions and license plate number with better resolution. 3″ super-large IPS display supports actual-time image capture and replay on camera without complicated SD card install and uninstall.
Triggered by built-in G-sensors, this car dash cam will automatically lock videos when collision or crash happens to prevent authentic video sources from getting deleted.
Sale £20.00
The car charger and the suction cup it comes with enhances the ease of installation for the user. Stick the car camera to the windshield by suction mount and connect the car dash camera with a cigarette lighter by the car charger.
The camera starts recording as the engine starts and stops when the engine is turned off automatically.when downloading files SD card reader comes in handy provided in the kit.
Supplemented with all these fantastic features and a professional customer service SSONGTONG dash cams are an excellent choice for users looking for a better and safe driving experience.
PROs
1920X1080P/30FPS FULL HD resolution
Night vision
WDR technology
Equipped with G-sensors
170-degree wide-angle view
CONs
Does not come with a Wi-Fi
9. APEMAN Dash Cams For Rear And Front
Ranking next on the list, we have APEMAN dash cams with 1080p front and 720P waterproof
Rear-end cameras provide full coverage of lanes yielding superior data recordings.
A small body unit with a smart driving structure enables you a safe and pleasurable driving experience. Use of specially designed materials makes it environment-friendly and electricity conserving. The unit provides not only accurate focus accuracy but also a large visual angle with actual colour.
These dash cams can record driving track, speed, latitude and longitude data by a GPS antenna. Triggered by a built-in G-sensor, the dashcam will automatically lock videos when a collision or crash happens, preventing the original video source from being overwritten accidentally.
The dashcam has powerful functions like motion detection, loop recording, G-sensors, vision, date stamp, WDR technology and GPS positioning system for location monitoring. Superior night vision feature enables clear and precise recordings under low light conditions, enhancing the credibility of the data stored at the time of need.
It is simple to operate by referring to the detailed instruction manual. Apeman prioritises 100%customer satisfaction and promises 24/7 online service for user queries. This dashcam comes with a 30 days money back policy and 24 months support service catering to the requirement and convenience of the users.
These premium features and the user-friendly user interface makes it an excellent choice for dash cams.
PROs
1080P Full HD recording
720P waterproof rear end camera
G-sensors
Superior night vision
WDR technology
GPS positioning systems
CONs
Does not come with a memory card.
10. ORSKEY Dash Cams For Cars Rear And Front
Concluding this list is Orskey dash cams with SD card for car's rear and front, providing the comfort of peaceful driving and assisting every moment of your journey. An essential element of the product is the super crystal full HD resolution providing clarity and credibility to the data stored in the system. a 170degree wide-angle lens captures all details on the whole road in super clear definition.
Both dual dash cameras come equipped with high-quality Sony sensors with f1.8 aperture six-element glass lens conferring superior quality to the videos under low light conditions. The car camera features high-performance CPU and high-end image sensors enabling front camera recording in super HD 1920x1080p/30fps resulting in videos with greater precision and reliability.
Sale £40.90
Its premium functions enhance the value of this product, from motion detection and parking monitoring, providing a safe driving experience. Loop recording, G-sensors and HDR function raises the authenticity of the data stored.
You need not worry about the data as Orskey dashcams come with an inbuilt SD card and professional customer service promising 100% customer satisfaction and optimum solutions.
Supported with 12 months guarantee Orskey dash cams make for a favourable choice for a serene driving experience.
PROs
Super night vision
Premium functions like G-sensors
High performance chip 1920x1080p/30fps
Inbuilt SD card
Allows Loop recording
CONs
Powered by battery rather than a capacitor
Best Dash cams Buyers Guide
Choosing Dash Cams – How does it work?
Power
A dashcam is a video recorder that is tinier than other recorders, and they are attached to the windscreen of your vehicle. Standard cameras are plugged into your cars, and then they are automatically turned on and off, depending on whether the socket has power.
For most of the vehicles available in the market, a 12v socket is the most powerful one when it is turned on. However, some of the leave powered socket, so you need to look for yours. If the outlet of your vehicle is always turned on, then you need to get the camera hardwired so that the camera does not record 24/7 because it will eventually end up draining the battery.
Recording
Dash cameras, by default, record to the removable memory cards, in some cases, a Micro SD card. These cards come in the sizes up till 512 GB; however, not all cameras support such large storage capacities. The larger the size of the card, the more the recordings it will store. Cameras record videos in blocks of 1, 3, or 5 minutes, so if you have been driving for 30 minutes, then you will have 6*5-minute videos. As soon as the memory is full, the camera will delete the videos automatically, and then you start from the beginning.
For a 32GB memory card, the average recording time when recorded at 1080P HD is 4-5 hours. This means you will always have the last 4-5 hours of videos on your memory card at all times. Also, there is no need to delete the files manually, but we do recommend formatting the memory cards. It would help if you formatted them primarily after you use them in a computer or after every one-two months, to keep them in good condition.
Also, please note that like a videotape, memory cards have a limit up to which they can be consumed. After extended use, these cards, just like any other tech device, tends to stop living up to our expectations.
Recording when parked/parking mode
Most people want their dash cams to record even when their vehicle is parked. So, some cameras do support the parking mode, which means the camera will record the video if someone bumped to your car. However, activating the parking mode is not as easy as just plugging and playing – there are a couple of installations you must be aware of in advance.
Purchasing Dash cams – What to Consider?
Budget – how much do you want to spend?
This is one factor that is going to decide what you are going to end up with. The cameras range from anywhere between £50- £500+. The price depends on the features you are interested in. However, a word of caution – set a budget limit before browsing these gadgets in different stores.
Coverage – Front-facing only or Front and Rear Camera
These cameras come in a couple of different styles. The first one being a unit with a camera facing the front, and a secondary camera which records the cabin of the vehicle. These cameras are quite useful when you are clearing you have been wrongly accused of using a mobile while driving. However, these cameras don't cover anything going on at the back of the car.
There is this other style of the camera which also comes with a rear-mounted camera, along with the front-facing camera. These two cameras are connected using a cable. This one style of the dash cams provides useful rear-view of the car. However, these cameras can be quite expensive. This is why most people buy one rear and one front camera, instead of the combination.
But for you, maybe the convenience of using only one memory card and one power cable is more appealing. Moreover, installing a dual camera is a pretty tricky process. In fact, in some cases, professional help is needed.
Battery or Capacitor – How the camera is saved in case of power loss
Many people who are new to using dash cams do not understand that the cells which come with the camera are not designed to run the cameras. All dashcams need 12 Volt of constant power supply to be able to work correctly. The only function of the inbuilt batteries or capacitors is to ensure that if the camera loses power due to an accident, the footage is still saved, and the camera is turned off without the file getting failed.
Batteries are comparatively more common in the cheaper dash cams. These batteries also tend to do the job of charging and discharging, which can lead to them dying. Moreover, these batteries are a little less resilient to heat, which is why they often pop during the summers. In such cases, capacitors are more effective; however, they keep less of a charge, but they were still turn off the camera safely. Moreover, capacitors are known to be resilient to heat, something that you need to keep in mind, especially if you live in a hot area.
Resolution – 720P, 1080P, 1296P, or higher?
Most cameras now come with 1080P full HD. Some of the models come with even higher resolutions. However, it is essential to note that not all 1080P cameras are the same. Just because a camera is a high definition, it does not mean it will have good quality as well. The quality of a dashcam is decided by other features as well as the image sensor used, the bitrate of the recording, or the camera lens used.
It is a bit difficult to explain all the specifications, so you must check out the sample videos of whatever camera you are buying so that you get an idea of its quality. Higher resolution does not mean high quality.
Memory Card – Picking a size and a brand
You are putting a great deal of thought into buying a dash cam, put a quarter of that thought into purchasing a memory card as well. Many cameras do not come with a memory card at all, which means, you as a consumer needs to decide which card should go with your dashcam. This can prove to be a pretty tricky exercise since cameras have different requirements for memory cards.
Some cameras support cards only up to 32 GB, whereas some others can support up to 128 GB as well.
One other factor that you need to keep in mind is the class rating of the memory card. Not all memory cards are suitable to use for the recording HD videos since they can't keep up. So before purchasing, make sure you check the class rating. Any brand from Samsung, Transcend, Kingston or Lexar is recommended.
If you are not sure about which memory card goes with your camera, make sure to ask first.
Size – What will suit my vehicle?
There are a lot of sized cameras available in the market, depending on the types of vehicles. The sizes are plenty, but at the end of the day, it depends entirely on your preference. Some people like to keep their dashcams hidden, while others prefer them large.
Frequently Asked Questions About Dash cams
Q. Do I want GPS/Speed Overlay?
The answer to this question is like a double-edged sword. It is nice to be able to prove when and how an accident happened, but if you are the one speeding, it can shoot you in the foot. It would help if you kept this in mind before considering this option. In some cameras, GPS or speed data is usually hardcoded into the video, and some other cameras require computer software.
Q. How do I install Dash Cams?
You don't need any special skills to install your camera at all unless you are dealing with premium range, front and rear-view cameras. You should be able to install budget dash cams within a matter of minutes, depending on the vehicles and the cleanliness of the install you desire.
Q. Is the parking mode worth it?
Usually, people are not aware of the drawbacks of the parking mode dash cams. Parking mode is a feature that keeps your dashcam in the state of hibernation when the car is left on the park mode. Depending on the model of your camera, it will start recording as soon as motion or shock is detected. In theory, the feature sounds like a must-have, but it comes with this one drawback.
Power: I don't know who needs to hear this – dash cams need the ability to run, which they get via a 12v socket. In 90% of cars, the 12v battery powers up only when the vehicle is turned on. So as soon as you turn off the car, the dashcam sleeps. Now if you think you will buy a dashcam that has a battery, you can't. Dashcams with batteries are not designed to run on the said batteries; they are meant for emergency purposes strictly.
So, is there way no around these limitations? Well, you need a hardwire kit, a device that can be connected to vehicles using a fuse box or a battery so that your dash cam can be supplied with power 24/7. There are a variety of hardwiring kits in the market that comes with a lot of features. So accordingly you need to take the cost of the package in your budget along with the price of the dashcam.
Conclusion
Generally, the best dash cams have similar technology to one another as you must have noticed in this series. Whichever dash cam you end up buying, it will ensure great video quality. All of them are endowed with superior features and at the same time, priced reasonably.
Now I want to turn it over to you: which dashcam are you planning to buy and why? Let's discuss in the comments section.