Your roof is likely the most underappreciated part of your home. It will dutifully protect you, your family, and your belongings from the elements, day after day, for upwards of 30 years—that is if it's built with the right materials.
If you are having trouble picking the best roofing material for your home, budget, and other unique requirements, we've got you covered. Here's everything you need to know about the most popular roofing options, including what makes each special.
1. Asphalt Roofing
Of all the roofing materials, asphalt roofs are the most common in the US. That's because asphalt roofing is durable, energy-efficient, and one of the most affordable to install.
Even though they are cost-effective, an asphalt shingle roof doesn't compromise on protection against various weather elements. Depending on your budget, you can get asphalt roofing as either fiberglass or organic asphalt shingles.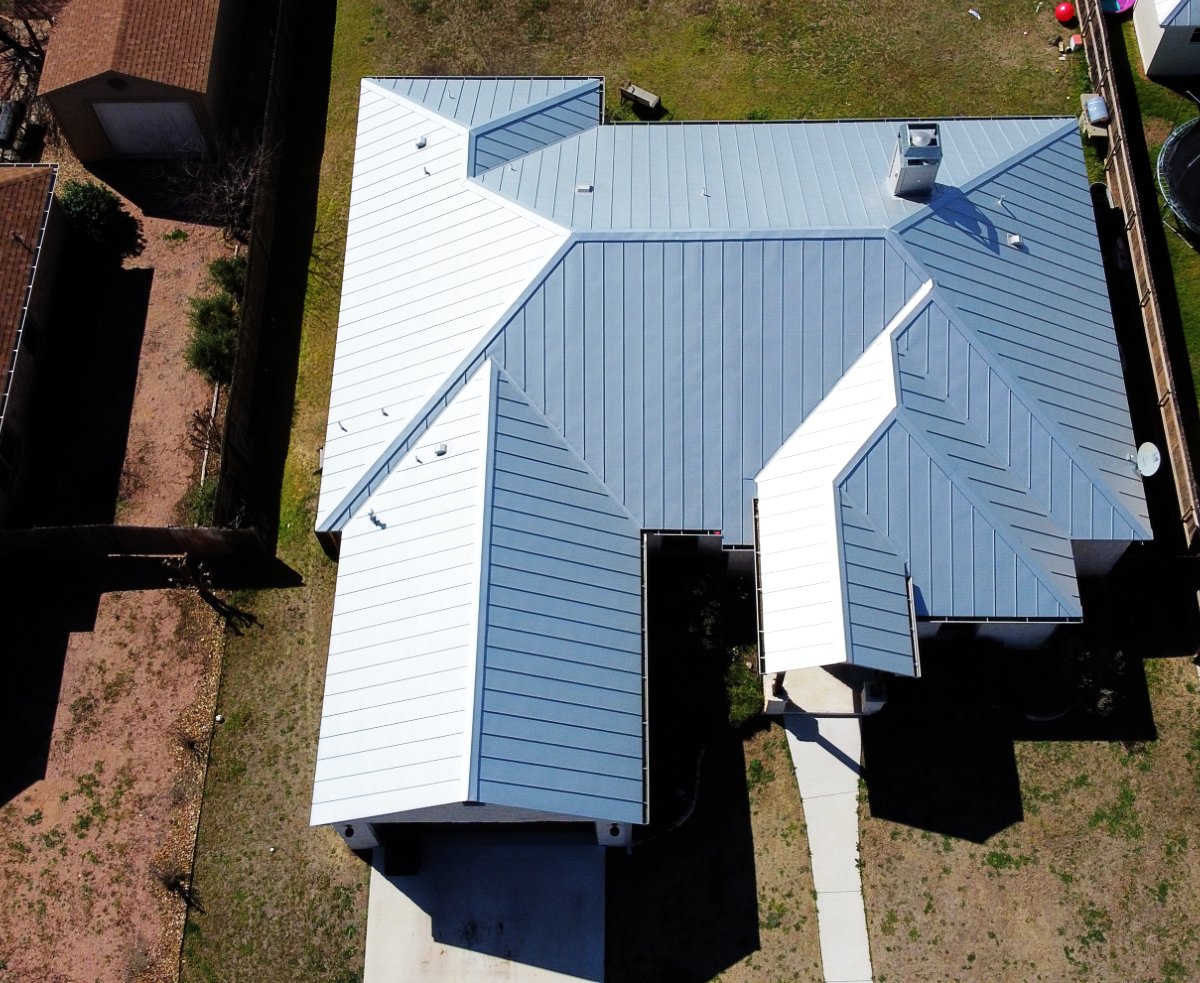 Fiberglass shingles have an underlying fiberglass mesh mat that makes them more water and fire-resistant. They are also great for hot climates, resilient, lightweight, and more comfortable to install. That said, they cost more than organic asphalt roofing materials.
Organic asphalt shingles have a paper base coated with asphalt and are covered with granules. They are heavier than fiberglass shingles, which makes them harder to install.
Even though they offer excellent protection against high winds, many manufacturers don't make them anymore. They tend to become less waterproof after a few years.
Pros
Available in various styles
Budget-friendly price
Top-quality products can last for up to 30 years
Fiberglass options are very fire-resistant
Roof repairs and installation are usually straightforward and affordable
Cons
Maintaining an asphalt shingle roof costs more than metal, tile, or slate roofs
Cheaper variations only last ten years or so, especially in hot climates
Sudden drops in temperature can lead to cracks
Not a very eco-friendly product
Can become a breeding ground for mold or algae, especially when installed in shady areas
2. Wood Roofing
Wood roofing materials are an excellent choice for a home with a more traditional or rustic look. While all wood roofing types are gorgeous, you can select between cedar, redwood, or pressure-treated pine shakes or shingles to achieve your desired aesthetic. Shake delivers a more rustic look but is more expensive because each piece is hand-cut and thicker.
Wood shingles have smoother surfaces and edges because they are machine-cut to ensure each piece's uniformity.
Pros
Looks fantastic on Tudor, bungalow, cabin/cottage, Victorian, and Cape Cod home structures
If treated, wood shingles can be very fire-resistant
More durable and offer better insulation than asphalt shingles yet cost around the same price
Cedar and redwood roofing is naturally moisture and insect-proof
It's an eco-friendly option since it's recyclable
Cons
Untreated wood roofing has minimal fire resistance and requires lots of maintenance
If you live in an area that's prone to wildfires, there's likely a law against wood roofing
Requires an expert for installation or the roof may quickly deteriorate
Repairs can be expensive
3. Metal Roofing
Among all the roofing options, metal roofing offers the best value. That's because it is competitively priced yet durable and energy-efficient.
Whether you get it as shingles, slates, tiles, or shakes, a metal roof can last for up to 60 years. The most popular styles come in rigid roofing sheets that you can paint to achieve your desired look. You can also coat it with granules to boost its longevity.
You also have to be aware that there are two types of metal roofs. Standing seam metal roofs and screw-on metal roofs.
Here at Hometown Roofing ATX, we always recommend standing seam metal roofs to homeowners.
Why?
Simply because it's zero maintenance, beautiful (instant curb appeal increase), and just as durable as any other metal roofs.
As for the metal roofs that require screws, you'll need to do regular maintenance on it. These screws loosen over time and can cause leaks.
So, if you're a homeowner looking into metal roofs, it's always best to go with the one that requires no effort.
With that being said, depending on the manufacturer, metal roofing is available in copper, aluminum, zinc, or lightweight steel.
Pros
Available in various styles and colors
Can last for 50 to 100 years—some even come with 30- to 50-year warranties
Deflects heat and keeps your home cool during hot seasons
The best products come with Class A fire rating
Lightweight and easy to install
Very waterproof
Eco-friendly and easily recyclable
Cons
Costs more than asphalt shingles and wood roofing
Can be noisy in the rain
More resilient than asphalt or wood, but costlier to replace or repair
4. Clay and Tile Roofing
Clay and tile have been the preferred choice in various regions for centuries, especially in Europe and Asia. Modern versions are improved to deliver more exceptional durability and aesthetics, but they also cost a lot.
You can get a modern tile roof in clay, concrete, or fiber-cement tiles. Modern clay tiles deliver a traditional look but are built to be more reliable and more durable. On the other hand, concrete and cement tiles are lighter yet robust, which makes them easier to install.
Pros
All tile roofing materials have a protective coating that keeps them waterproof
Can last for 50 years or more
Lovely aesthetics, especially on European, Mediterranean, Spanish, and contemporary homes
Resistant to fire and insects
Available in various textures and colors
Keeps your home cool in summer and warm in winter
Eco-friendly and recyclable
Cons
Tiles are heavier than most other materials, which makes roof installation pricier
Costs more than metal, asphalt, and wood roofing
Can easily break when stepped on, such as during roof or chimney repairs
5. Slate Roofing
Slate roofs are the highest-end option. If you can afford it, this material's beauty and durability are worth the high price. In fact, slate is so durable that some European homes have been using the same tile roofs for centuries.
Depending on your budget, you can opt for natural or composite slate tiles. Both are highly durable, but natural slate tiles last even longer. Synthetic slates, like composite and vinyl slates, are lighter and quicker to install but last for only 50 to 60 years.
Pros
Delivers a truly luxurious look
Can last a lifetime and boost the market value of your home
Requires minimal maintenance
Eco-friendly roofing material
Cons
The weight of natural slate requires extra framing support, which increases the cost of installation
Poor installation can quickly compromise your roof
Can easily break when stepped on, such as during roof or chimney repairs
Conclusion
We hope that this guide has helped you settle on the best roofing option for your home. There's a roof for every budget, and these are by far the best options that are available in today's market.
If you're still unsure of what type of roofing material is right for your home, we always advise that you ask a local professional roofing company in your area to let you see a live sample of each material. Whatever decisions you make, we hope that you'll always be 100% confident in your investment.