The Bosch PSB 1800 is a very versatile and nicely designed Hammer Drill and comes with a range of fantastic features at a super affordable price as compared to similar models. This Drill works well for domestic use and a must have in your house. Whether it's drilling into bricks to hang a shelf or drilling into the wood to tighten a screw, there are a ton of reason where you may need a cordless drill and the Bosch PSB 1800 will probably be the best choice.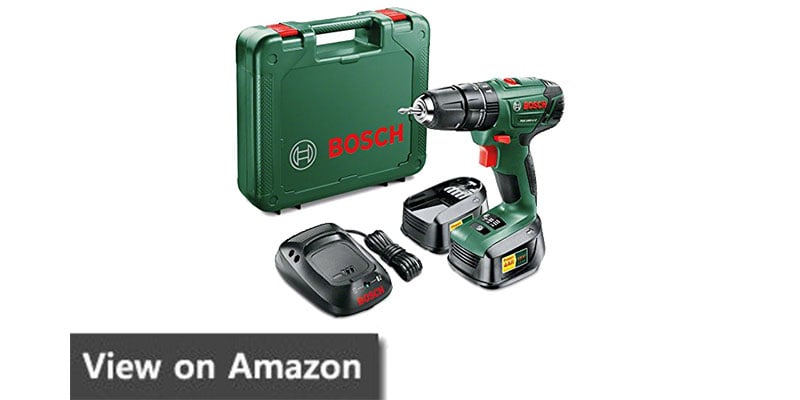 The combi drill features here has three functions which will assist you to drill through a number of materials. Whether it is brick, wood, or steel, you can get this drill, it will have some impact and get the job done for you effortlessly. It is very comfortable to use and the Drill can achieve a torque of 39N and minimum speed of 400 revolutions to a maximum speed of 1,350 revolutions per minute. Cordless Drills depends on batteries.
This Drill is an 18v one and powered by the lithium-ion technology. It is capable of drilling almost anything you point it to like a thick beam, steel or masonry up to 10mm in diameter seamlessly. Being a cordless drill, the Bosch PSB 1800 allows you to have full control over the movement. This will help you drill with more precision.
Before diving straight to the reviews lets first check out some of the technical specifications and packaged contents.
Lithium-Ion battery technology; Syneon Chip: Intelligently controlled energy for every project
Screwdriving, drilling, impact drilling in wood, metal, and masonry; Two-speed gearbox
20 pre-selectable torque, drill and impact drill settings; Integrated LED light for optimum illumination of dark work areas
Keyless chuck with Bosch Auto-Lock: for the fastest and easiest bit changes
Powerful lithium-ion battery and 1-hour charger, for use with all DIY and garden tools in the Bosch 18 volt system
Screw diameter max: 8mm
Drilling diameter max (wood) – 30mm, Drilling diameter max (steel)-10mm, Drilling diameter max (masonry) – 10mm
Comes complete with Double screwdriver bit, Plastic case, Charger AL 2215 CV & 2 battery packs PBA 18V 1.5Ah V-A
Max speed: 1350 rpm, min: 400 rpm
Impact rate maximum: 20,250bpm
Noise level: 87 dB (A)
Bosch PSB 1800 – Packaged Contents
The Bosch PSB 1800 comes in a complete set. The package includes the Bosch PSB 1800 Li-2 Cordless Hammer Drill itself, Additional Double screwdriver bits, A blow molded Plastic carry case, Fast Charger AL 2215 CV, 2 battery packs PBA 18V 1.5Ah V-A, and the Instructions manual.
What we like about Bosch PSB 1800
The Bosch PSB 1800 weighs around 1.3kg with the battery attached. It makes it a very lightweight cordless drill. Having lightweight helps you to hold it for a much longer time and drill with increased precision. It comes with a double screwdriver bit, so this cordless drill can also be used as a mechanical screwdriver for screwing as well as unscrewing.
The PSB 1800 has 20 different pre-selectable torque settings and 2-speed gearbox along with drill and impact drill settings. You have optimal power and settings for every situation.
It comes with 2x 1.5Ah Lithium-ION battery and fast charges, So the battery takes only up to 1 hr to charge fully. The package comes with two batteries so you can keep rotating the cells and allows you to work continuously. One will be charging and others will be in use and when you run out of power on one battery you can easily swap it with the other one very convenient! Isn't it? It also supports the same batteries as the rest of the Bosch Cordless drill range. Swapping battery from one type of drill to another is not an issue here.
It comes with a nice carry case, it is blow molded and has a handle which makes it comfortable to hold and grip. You have led light, Very useful when you have to work in a dark environment. It makes working in the dark corner easier. The light is very bright and brightens up the surface. It also comes with an auto-lock feature to lock the bits automatically tightly in place.
The Bosch Drills comes with two years of product warranty but here's a plus point, when you activate the warranty online you get an additional one year of warranty. So overall you get three years of warranty with this product.
Read More: Top 10 Fast Growing Climbers – Most Vigorous & evergreen
What we didn't like about Bosch PSB 1800
There is nothing much to dislike about the Bosch PSB 1800 but we still managed to pull out two things which doesn't really matters much but you can check them out anyways.
The Power and battery are not strong enough as compared to competitors in the same range. It is good enough for easy tasks but it won't handle heavy tasks because it cannot draw such amount of power. The competitors were much better in terms of power and battery.
But still In case you need more power then you can also try the PSB 18 LI-2, also from Bosch. It comes with great additional features and some improvement from the PSB 1800
Some improvements include
Increased Screw Diameter (From 8mm on PSB 1800 to 10mm)
Enlarged Drilling Diameter in Wood (From 20mm on PSB 1800 to 35mm)
Increased Drilling Diameter in steel (From 10mm on PSB 1800 to 13mm)
Improved Power supply (True 18v Power)
Lastly, the LED lights which we talked about earlier. The only minor issue we found about the LED light is the effectiveness. It's not like a torch so it doesn't light up much and might make the drilling processor slower for you.
Pros
Lightweight – It only weighs around 1.3 kgs which makes it very lightweight and can fit into small space while working.
Multiple torque settings – It offers 20 torque settings for each and every situation.
Keyless chuck – It has keyless chucks so you don't need to worry about losing the chuck key, you can exchange the bits much faster and easier.
Integrated work light – To lighten up the working surface. Makes working in a dark environment easier.
Interchangeable batteries – Great for longer operations. You can have one battery in charging and swap it with another when you are out of juice.
Syneon Chip – It manages the energy produced by the batteries effectively and can provide maximum power out of the battery when needed.
Fast Charger – It charges fairly fast. This Drill only takes about 1 hr to fully charge.
Cons
Lock mechanism – The Chuck sometimes get loose over time later it may need a little twist to tighten it up.
Could be more powerful – Pretty good for handling the light task. For the heavy task, this is not the one you should be looking at.
LED Light – It does not light up as much.
Bosch also has an accessory set for the drills. The set comes with a 91 piece set with bits and screwdrivers. It has 11 metal bits, 11 masonry bits, and 8 wood drills. The Accessory set is only half the price of the drill and If you already don't have a bit and screwdriver set then this is the must-buy an accessory for the Bosch PSB 1800 Cordless Drill.
Amazon offers a couple of different combo offers for the Bosch PSB 1800 Cordless Drill. In total there are five ways you can buy the drill. You can get the Drill with one or two batteries and a Bosch 70 Piece accessory set or Bosch 50 Piece accessory set. Additionally, you can buy the Drill alone without the battery or charger included.
Conclusion
The Bosch PSB 1800 is one of our favorite cordless drills. It is also one of the most popular among customers. This will really help you out in your DIY home projects and light-handed tasks.
We did test some other drills from competitors in the same price segment, and the Bosch PSB 1800 turned out to be the best one currently available under £100. If you are looking for a value for money product, then this is your bet.
Whether you have to drill into bricks, the sheet of metal or just woods the Bosch PSB 1800 is capable of doing all kind of task and is one of the best Cordless drills for Home Projects.
Feel free to comment below if you have any kind of query related to Climbers or if you have any kind of suggestions we will surely look at it and try to help you out.