Banana plants are unlike any other plant which looks good in every household, be it outdoors, indoors, anywhere you wish. It brings that tropical touch to your home like any other plant.
The Banana plant originates from South-East Asia, and South Pacific and is one of the oldest plants ever.
Being the oldest member of the Musaceae family, the Banana plant has more than 400+ varieties, can you believe it? The banana plant features massive leaves and occasionally produced fruits which look amazing in any garden.
Among the 400 varieties of banana plants, some of them are tender, while some are hardy that can withstand the winter climate too, especially in the milder parts of the UK.
These plants can be grown all year but, in the UK, you should plant them at the end of a long summer.
After all this, the main question that arises is how you can grow Banana plants. Below is the list of factors that will help you understand how to grow these plants successfully.
Tips for Growing and Caring Banana Plant
Seeds
You can grow the plant with the help of seeds, seedlings, or divisions. ○ If you want to grow the plants with the help of seeds, first sow them in warm water for at least 24 hours. Make sure to sow each seed individually and till 1 cm deep in your compost pot. Just as you place your seeds inside the pot, put them in a warm location with a temperature of 21-24°C.
If you have seeds that are fresh, then the germination process will not be long, however if you have old seeds then it can take up to six months for them to germinate. Once your seeds have been germinated and one-two tiny leaves are popped out, you can place them outside or in a place where there is lighter and then increase the plant water consumption and feeding.
You can also use the division method, most of the Musaceae species tend to produce offsets for fruiting purposes. These plants must be thinned so that they do not get crowded with other plants. During the Spring season, the best way to get rid of these offsets is by detaching them from the ground with as many roots as possible, remove some lower leaves, and put them in a different container.
You should start off with one plant and see how it seeds itself, many gardeners use this trick.
Pruning and Breeding
You can breed the plants by sowing the seeds or seedlings, or through the division method.
If you have the Ensete species of Banana plant with you, then the best method of propagating them is through seeds. As for the pruning, very little to none is required in these plants.
If you wish to prune them, just cut the old leaves from the bottom so that the fresh ones can bloom. For winters, when you must keep your plants indoors or wrap them up, make sure to cut some of the stems.
Fruiting
Banana plant is considered either as a houseplant, or an outdoor plant with massive, elegant leaves, which leaves a bare chance of them to bloom flowers or produce fruits. However, there are some varieties that produce flowers and mostly inedible fruits like the 'Orinoco', or 'Rajapuri'.
If you want the fruits to come out of your banana plant, it is essential to maintain the temperature, bananas take a long period of 9-15 months, and 2-4 months more for fruiting with the temperature being above 15°C to ripe.
Growing
You can grow the banana plants both outdoors and indoors in a container. ○ If you wish to grow them outdoors, since most of the plants have tender leaves, you should choose a sheltered place for them to grow, sheltered from sunlight and wind.
These plants require a well-drained, moist soil enriched with organic compost, during Springs.
Once they have fully grown, water and feed them alternatively for better growth. During winters, you can either wrap up your plant or take it indoors.
You can also grow your banana plant indoors in a container or pot.
For this you can take a loam-based pot with extra grit, for the initial stage of seeding, you can take a pot of 2-3 inches, once your seedlings have germinated, turn them into a bigger pot of 10 inches, after that change the pot for 4-6 inches more every year, since the leaves will be massive, and in the end, you will require a bigger pot. Remember to maintain a -14° temperature for the plants to grow in a frost-free greenhouse.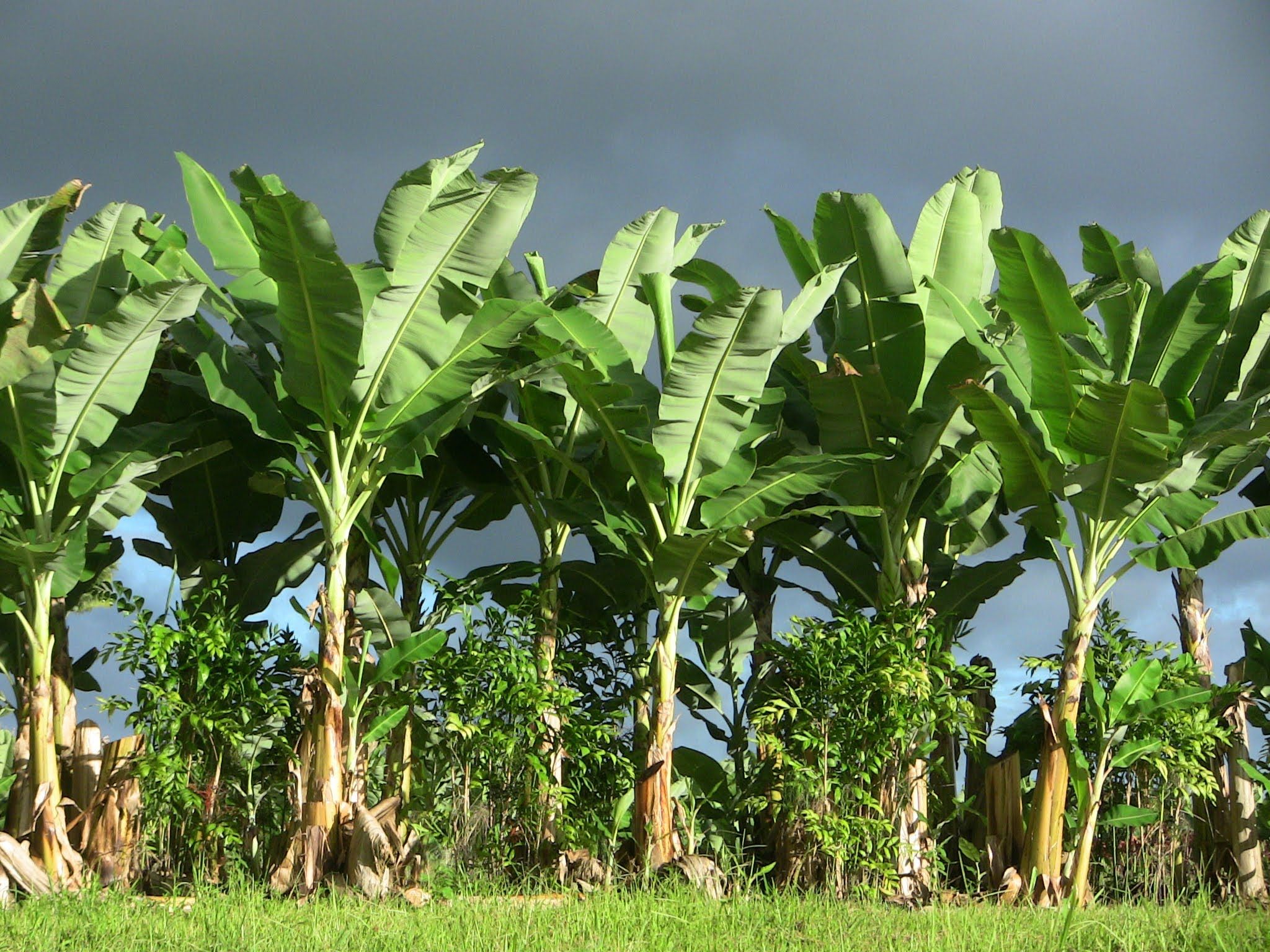 Yes, pot size matters when you are growing a banana plant because the foliage it produces is big. When you are buying a whole banana plant, rather than growing them by seed, look carefully at the pot size, not only that but also the height of your plant and how many plants are there in one pot. The leaves are tender and can be shredded easily, ensure that they are sleeved in so that their leaves do not get cold or damaged.
Soil
Banana plants grow well in moist soil, not too wet. One of the major problems that occur during watering is putting too much water and not sufficient drainage. Putting too much water will weaken your roots, and your plant will not have the proper growth, and putting less water will leave your plant dry and the leaves will not come out properly. You should never let your plant have too much water, ensure that there is sufficient drainage and that the soil is moist throughout and not dry or wet.
Diseases
Like every other plant, banana plants can also cause some diseases. What's best is to check them and prevent them from happening. The leaves will shred naturally under climatic conditions, which is why it is suggested to keep them in a sheltered area where the shredding can be minimal, and it will look good too.
If you have overwatered or less watered your leaves, then they may limp or hang themselves rather than standing upright. Be sure to check the roots of your plants daily and judge accordingly whether it receives water, you can also check this through the brown patches on the leaves which show lack of water and humidity.
If you are planting hard varieties of plants, make sure that there is not a crowd when you plant their seeds during winters, as they will be more prone to diseases.
Other than that, diseases like snails, red spider mites, mealybugs, aphids, can occur due to too hot or too cold climate.
Varieties of Banana Plants
If you wish to grow a banana plant outdoors with proper winter protection, you can choose 'Ensete ventricosum AGM', this variety can be grown outdoors in a frost-free area.
It stands erect with 8-16ft tall, massive leaves with red midribs beneath them.
You can also grow 'Musa basjoo AGM', it also includes two varieties, 'Musa x paradisiaca 'Rajapuri', and 'Musa sikkimensis'. 
These are only grown outdoors in sheltered gardens, the Rajapuri produce dark green leaves and are 8ft tall, whereas the Sikkimensis produce massive leaves with bronze edges and are 10-13ft tall.
If you want to grow banana plants in summers under warm conditions, you can choose 'Musa ornata AGM', this plant produces flowers and inedible fruits, and grow between 6½ – 10ft tall.
You can also pick 'Musa velutina AGM', this plant grows under a minimum temperature of 16°C, with orange-yellow flowers, and pink fruits, and grows at a height of 6½ ft.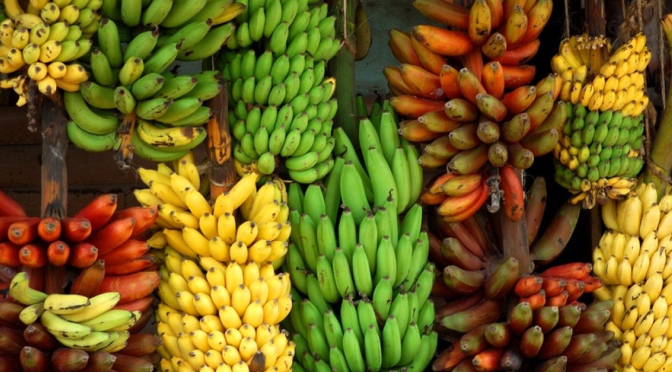 Conclusion
You can easily grow banana plants both outdoors and indoors, under the essential factors mentioned above.
Banana plants are one of those plants that grow for a longer period and look good in every household. With its extremely beautiful and massive foliage, you can plant them anywhere and your room will just liven up.
If you wish you can grow them in containers, however, it comes with special instructions. You have an option to watch your plant grow in front of you by planting the seeds or you can have a store-bought plant as well.
Both conditions work well, and for both, you can contact your local nursery or greenhouses as they will be able to give you a detailed description of the plant and how to grow them.
Also, do not forget the above-mentioned tips and tricks.