Power amplifiers are essential components of any sound system. If you want to get the most out of your system, you must invest in one.
Basically, a power amplifier is a device that takes an input audio signal and amplifies its power to drive a speaker or a set of speakers. It's the engine that drives your sound system, ensuring that your music is heard at the appropriate level and quality. Although different types of amplifiers are available, they all perform the same basic function: to magnify the audio signal and power your speakers.
But when it comes to quality, not all amplifiers are built the same. If you want a really good stereo amplifier for your audio setup, you should consider getting a Mcintosh one. Since its inception in 1950, the McIntosh Laboratory has been regarded for producing some of the top audio equipment in the industry. The Mcintosh amplifiers are one of the best ones available and have a loyal following that includes everyone from professional musicians to casual listeners.
Superb Build Quality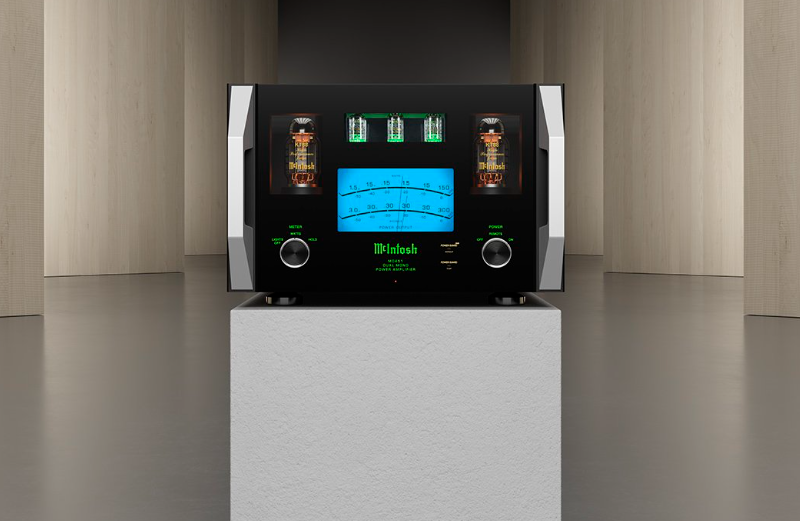 One of the main reasons why people choose McIntosh amplifiers is their superb build quality. McIntosh makes no compromises when it comes to constructing amplifiers, employing premium materials, precision engineering, and rigorous attention to detail. Durability and lifespan are ensured by the sturdy chassis, high-quality components, and hand-assembled craftsmanship.
High-Quality Components
McIntosh is committed to using the highest-quality components possible. Every component, from custom-designed power transformers to specialised capacitors, is picked for its quality and performance. As a result, their amplifiers can reproduce audio signals with pinpoint accuracy while minimising distortion and interference to create audiophile-quality sound.
Iconic Aesthetics
McIntosh amplifiers' unmistakable shape is an important component of their look. More than just design components, the classic black glass faceplate, lighted blue-watt metres, and polished stainless steel chassis are emblems of McIntosh's timeless aesthetic. Owning a McIntosh amplifier is frequently as much about displaying an art piece as it is about listening to music.
Excellent Sound Quality
The precise engineering and superior components of McIntosh amplifiers result in a clean, clear, and three-dimensional soundstage. Audiophiles love the warm, melodic, and engaging sound signature. This superb sound quality is achieved through a mix of rigorous circuit design, component choice, and tweaking.
Broad Dynamic Range
This feature allows the amplifiers to handle both subtle and powerful audio passages. This means they can precisely recreate fine nuances and powerful crescendos, offering an alluring listening experience. McIntosh amplifiers are in fact, very popular for their ability to faithfully reproduce music across its dynamic spectrum.
Timeless Legacy
McIntosh's history in high-fidelity audio dates back to 1950. Audiophiles appreciate the brand's history and long-standing reputation for quality and innovation. Having a McIntosh amplifier is like having a piece of audio history in your possession.
From vacuum tubes to solid-state amplifiers to stereo, monoblock or multi-channel configurations, McIntosh has an amplifier solution for every need. Here are a few suggestions worth considering.
MA 8950 Integrated Amplifier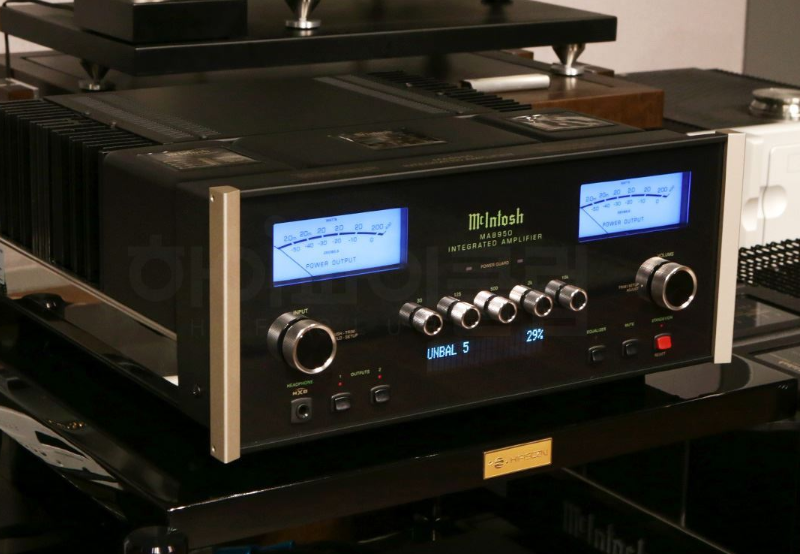 This amplifier combines McIntosh's skills in amplification and preamplifiers into a single but comprehensive home stereo device. It boasts 200 Watts per channel of listening pleasure, 16 inputs (9 analogue + 7 digital), and a 5-band tone control to help you fine-tune its superb sound to your listening environment. This means it can power virtually any set of speakers, handle almost any variety of sources, and work well in practically any room.
It manages to evoke feelings of both sturdiness, which conjures up images of hefty engineering, and the kind of fine precision finish that characterises the high end. As a result, the device exudes great confidence. According to experts, the MA8950 generates music with confidence and nothing is forced or exaggerated; it's just there.
C12000 Solid State and Vacuum Tube Preamplifier
This McIntosh preamplifier represents the pinnacle of audio engineering and is a tribute to the brand's constant commitment to providing the greatest audio performance possible. It's a dual mono, two-chassis preamplifier that showcases accuracy, experience, and creativity.
The C12000 is meticulously crafted to split the preamplifier's main functions – control and sound – into distinct chassis modules, assuring complete isolation. This uncommon yet effective design enhances your audio experience by delivering unrivalled perfection to your home audio stereo system.
The Hybrid DriveTM technology, which incorporates both vacuum tube and solid state outputs, allows the listener to choose which to utilise. It's a good idea to have access to both vacuum tube and solid-state outputs; listening preferences vary, as does the sonic behaviour of associated systems. The C12000 is built to handle this.
The C 12000 is an extremely quiet preamplifier that also has very low distortion levels and a very high maximum output level. This preamplifier's performance with both line and phono inputs is among the best encountered from a preamplifier.
MA 9500 Amplifier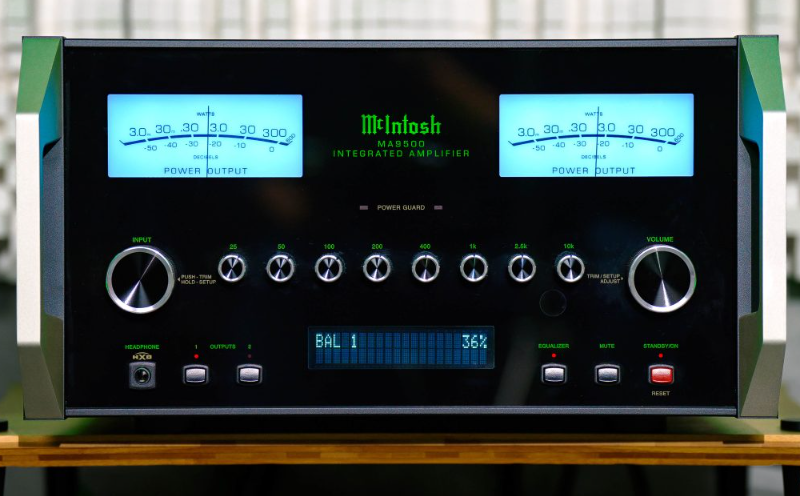 In addition to providing 300 watts per channel, the MA9500 also offers ten analogue inputs: two balanced, six unbalanced, and one MM/MC input with configurable loading. There are also balanced and unbalanced outputs. The MA9500 features a discrete, eight-band tone control with manual analogue adjustment of 12 dB (in 2 dB increments) throughout a wide frequency range. The revolutionary gold-plated Solid CinchTM speaker binding posts from McIntosh are also included.
McIntosh Autoformer technology is also featured in this amplifier to ensure that loudspeakers always receive full power regardless of impedance. It also comes with the McIntosh Power Guard technology, which continuously monitors input and output signals and may dynamically change input levels to minimise clipping, and Sentry MonitorTM fuse-less short-circuit protection.
MC 611 Monoblock Amplifier
McIntosh likes to create unique things and they do with an excellent end result. And so it is with the MC611 power amplifier.
One of the greatest things about this amplifier is its low distortion. Unlike most other amplifiers on the market, the MC611s produces little distortion at all frequencies and outputs, including 40Hz and 10kHz. Another advantage is easy load matching, which allows users to use all 600 Watts of power from the MC611 regardless of whether the speaker has a 2, 4, or 8-ohm impedance. This could demand so much current for a 2 Ohm speaker that most amplifiers would melt. The device's Quad Balanced design also aids in noise cancellation, creating an almost spooky quiet between musical crescendos.