Every piece of tech we have in the world faces some kinds of issues then and now. Some are rather quicker while some cause issues after a long term of usage. However, to overcome the issue there is some percentage of the people who simply throw the device away and buy a new one, on the other hand, there are smart ones who try to look for the solution online and save some bucks from spending them on a new one. This article is all about Samsung Soundbars and the issues regarding them. It is a very simple device but sometimes it may also face some connectivity issues. Don't worry as we are here to help.
Resetting Samsung Soundbar is very easy and requires you to follow any complex steps. You just have to press and hold a few buttons so that the device will be in the reset mode. Once you are in the reset mode you can easily reset your Samsung Soundbar to the factory settings. Read along for an in-depth guide on how you can reset your Samsung Soundbar.
Why Do We Need to Reset the Soundbar?
There are several reasons why would someone want to reset their soundbar. One of the main reasons is the connectivity issues. Sometimes the Soundbar will just refuse to connect to the TV and whatever you try it just won't work at all. This is not an issue when you are using a wired connection such as HDMI or RCA cable, it only occurs when you decide to use the wireless connection such as Bluetooth.
It can also happen if you connect your soundbar to a lot of different devices and in the end, it won't connect to your main device so you would want to simply clear the connection list and start everything from scratch. Another possible reason could be the Sub Woofer you have with the soundbar won't connect. Again, in this case, a simple reset will probably fix the issue. However. before you even try to reset the soundbar we suggest you try some troubleshooting and see if this fixes the issues you are facing.
Try These Before Resetting
Here are a few things you can try to fix your connectivity issue before even trying to reset the soundbar. Samsung soundbar is designed to work with Bluetooth enabled devices and Bluetooth have certain limitations.
Firstly, try to reboot everything like the Soundbar, Television or the Subwoofer and pairing everything once again. Also, try to connect the soundbar to a different television and see if it works.
Ensure that there are no obstacles between the soundbar and television. If you have any other device which uses the same frequency such as a microwave or a medical device then remove it from the range or turn it off and then see if it works.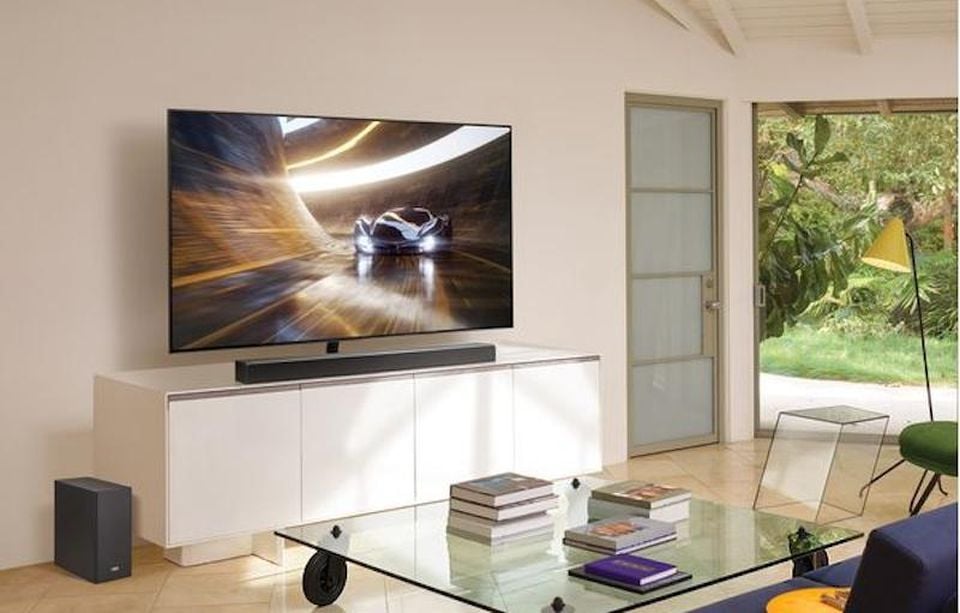 Here's How You Can Reset Samsung Soundbar
Resetting your Samsung Soundbar is a very easy process and anyone can do it in less than a minute. However, keep in mind that Samsung has a lot of different Soundbars with different features and functionality. So, the method which works fine on one soundbar may not work on a different soundbar at all.
To find the right process for whatever soundbar model you have from Samsung, simply find the User Manual which comes included with the package and go through it. Hopefully, you will find the correct steps involved in resetting that particular soundbar model. In case you threw away the user manual just like everyone else then you can try something else.
You can either check the steps online or call the Samsung technical support and they will help you out on the exact steps to reset the particular model. Now let's check out the most common way to reset your Samsung Soundbar.
Power on the Soundbar and press and hold the off button on the remote or on the soundbar itself.
You have to hold the power button until it displays 'INIT OK' on the soundbar display.
If you have an old soundbar without any display then you will see a red led blinking and then stops once the reset is done.
Conclusion
Samsung Soundbars are great, they are specially designed to connect to your TV and provide a richer audio experience. We all know that TV speakers are not usually capable of providing great audio and this is the main reason why most of the manufacturers offer a soundbar.
So, after reading the article now you must be completely familiar with how you can reset your Samsung soundbar. As stated before it is a very simple process and doesn't require a lot of hard work. Just in case you are still having some connectivity issues or couldn't reset the soundbar even after trying everything listed above then don't forget to leave a comment below and we will do our best to help you out.